FACILITY
Message from vice proprietress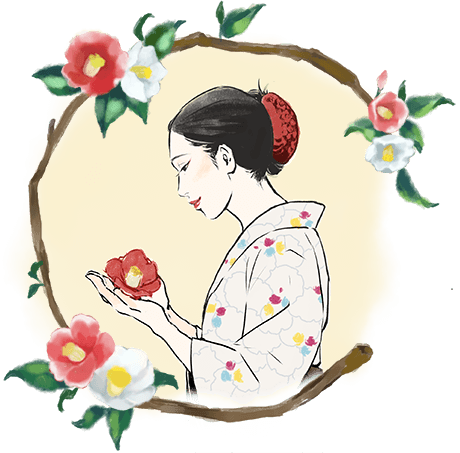 Thank you for visiting our website. Being located in the mountains, we at Yamanoyu appreciate gifts from nature. 100% natural hot spring, quality local foods, fantastic views by season to mention a few. Classic Japanese atmosphere to match with the natural setting will enhance your Japan experience.
Due to the surrounding nature, you may encounter insects and bugs by chance in Yamanoyu. In such a case, please let us know so that we can release them back to nature.
Make yourself at home while you are with us. It would be our great pleasure if Yamanoyu becomes "home away from home" for you.
Yamanoyu style

Small articles and dolls inside the rooms, reception and lobby are hand-made by our vice proprietress. The camellia is the motif for our interior, featured everywhere at Yamanoyu.
Tatami space at the far side of the lobby can be freely used. Many guests like this space as it is good for chatting, a break after taking a bath and enjoying view of each season out of the window.

Reception

Let us help you. We are at your service.
Alcoholic beverage sold here.
Souvenir shop

Would you fancy some good souvenirs? Have a look at our souvenir shop next to the lobby. You will find what you are looking for.

Banquet Hall

The Banquet Hall is a Tatami room with tables and chairs, caters to the needs of those who have difficulties in sitting on Tatami and children. Please contact us in advance so that we can arrange the layout for you depending on the numbers of your group.

Corridor

Corridor leading to the bath is gently lit with bamboo-shaded lamps, enhancing Japanese atmosphere.

Baths

This wild-looking cave bath is popular for everyone as it evokes a sense of adventure when getting deep inside. Because of its structure, it is almost sauna.

Rooms

The camellia are the featured interior element in Japanese Tatami rooms.
Basic Information
Address
2098-1, Machida, Kusu-gun, Kokonoe-machi, Oita, Japan 879-4723
TEL
+81-973-78-8111
FAX
+81-973-78-9653
Transportation
Kyudai Main Line・Bungo Mori Station/10min from Oita Expressway・Kokonoe IC
Parking lot
50 free parking spaces available
Check In
15:00 (last check-in time : 18:00)
Check Out
10:00
Total guest rooms
28 rooms
In-house facility
Cafe/Banquet hall/Conference room/Large public bath/Outdoor bath/Salon after bath/Gift shop/Coffee shop/Amusement arcade/Shuttle bus/ Fax transmission/Room service/Massage service/Morning call/Home delivery system
Credit cards
Available
Requirements・Important notices
A separate 150yen hot bath tax will be charged.
If Children's Accommodation fee is over 5000yen, 150yen hot bath tax will be charged as the same amount of hot bath tax for an adult.
If Children's Accommodation fee is under 5000yen, a separate 100yen hot bath tax will be charged
If you come later than the scheduled check-in time, please be sure to contact us.
Please take a bath first and enjoy your dinner.

Barrier-free
wheelchair-accessible
CANCELLATION POLICY
Guests are required to read and understand the following Cancellation Policy when booking. Should there be any changes on your check-in date, or should you need to cancel your reservation, please notify us at your earliest convenience.
Cancellation fee
For cancellations received 3 or more days prior to check-in date, no cancellation fees applied.
Cancellation received 7 days prior to check-in date, 15% of room tariff
Cancellation received 3 days prior to check-in date, 30% of room tariff
Cancellation received 1 day prior to check-in date, 50% of room tariff
Cancellation received on the day of check-in, 100% of room tariff
No Show
In an event of a guest No show, 100% of room tariff
Waiting for cancellation
Should you wish to wait for a cancellation on your preferred date, we will put you on the waiting list and contact you if there is a cancellation.
PET POLICY
No pets other than 【medium-breed dog】 are permitted.
Not all rooms are applicable to pets. (There are limited numbers of available rooms. Please contact us.)
When entering inn, pets need to be carried or inside their cage/crate to your room.
※Rental cages are available
If usage, please fill in the reservation form under the remarks column or contact us once you finished reservation.
Rooms available
Japanese style room with restroom
Pet fee
3,000〜4,000 yen per animal (excluding tax)
In terms of bringing pets
potty trained/vaccinated/unnecessary barking/dog's that are not in mating season
Useful things to bring
dishes/dog food/toy/pet sheets/foot and bath towels/blanket and mattress (sheets)/cage/crate
Others
If there are any inconvenience or accident (i.e. damaging furnitures, making mess) due to your pet, please contact the reception.
We will not charge unless it is a special case; however, we will charge a fee if the damage has gone overboard.
※This plan is only for『HP限定ペット同伴プラン』